Site design by Bold Venture Software Ltd.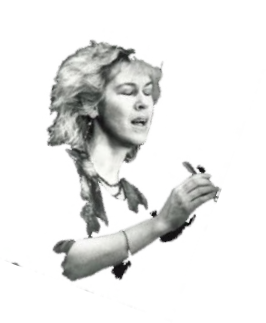 Polly Bolton
Singer, Songwriter and Voice Practitioner
Polly is recognised as one of the leading exponents of decorative style of tradition British singing. She began singing in the folk clubs of Leamington Spa, along with June Tabor, in the mid 1960's. While studying zoology at Swansea university, Polly joined acoustic folk rock band, Dando Shaft, and gigged with them for a few years, recording about three albums with them. In the 1970's she worked in soul and jazz bands in Britain and the States and performed in folk clubs with Kevin Dempsey.
IIn 1980 Polly left the music business to start an organic plant nursery in South Shropshire, singing in early music choirs and choral societies. In 1985, Polly was persuaded out of hiding by Ashley Hutchings to sing on his album "By Gloucester Docks I Sat Down and Wept". For the next few years she sang and recorded with the ALBION DANCE BAND and in 1987 Ashley produced Polly's first solo album, "No Going Back".
In the 1990's Polly appeared as a guest singer both as a performer and on recordings with SHOW OF HANDS, ALAN STIVELL and JENNIFER CUTTING.
In 1989 Polly began working with two South Shropshire based musicians, John Shepherd (who she had worked with in the Albion Dance Band,) and Steve Dunachie. They toured and recorded for 10 years and made three albums, Woodbine and Ivy, Songs from a Cold Open Field and settings of A.E. Housman poems, Loveliest of Trees.
Polly has also performed and played with legendary wind player, Paul Dunmall and they have recorded two improvised albums, A View from the Bay and A walk on the Beach.
In 1998, Polly began teaching community choirs and writes and arranges many of the songs she teaches. She runs three choirs and teaches occasional voice workshops, specialising in helping those who fear singing. Details of singing workshops can be found on www.oak-barn.co.uk
Polly has also written songs for theatre groups and one off arts events commissions and often works with Chester based poet, Gill McEvoy.
She is a long term member of the Natural Voice Practitioners Network which encourages everyone to find their voice and sing with others.